DENMARK'S COLA FOR GENERATIONS
Jolly Cola is Denmark's very own cola and dates back to 1959. In Denmark, Jolly Cola is probably best known for the slogan 'Say Jolly to your Cola'. Thus, several generations have grown up with Jolly Cola that constitutes many a childhood or youth memory. Today, it is still to be found on the supermarket shelf – and, to a number of customers, the joy of recognition is considerable. We are proud that, today, A/S Bryggeriet Vestfyen is able to produce and market this delicious series of Jolly varieties.

JOLLY COLA
In most recent years, A/S Bryggeriet Vestfyen has developed the Jolly Cola series. We have relaunched the low-calorie Jolly Light and the refreshing Jolly Time, and – also – we have developed Jolly Squash Light with orange flavour. Containing 5.5% fruit juice, it belongs among the tastiest orange squash drinks in the Danish market.

When, in 2014, we relaunched the Jolly Cola, the labels were designed so as to resemble the original look from the 1980s. Over time, Jolly Cola introduced a number of advertisements that, today, enjoy cult status. The most famous among them, and still remembered by many Danes, dates back to 1992 and features the then highly renowned Danish super model and TV star, Tina Kjær, with two ripe fruits. This advertisement was published under the slogan 'A thirst for life'.



Thomas Lindegaard
2018-03-22T11:26:49+02:00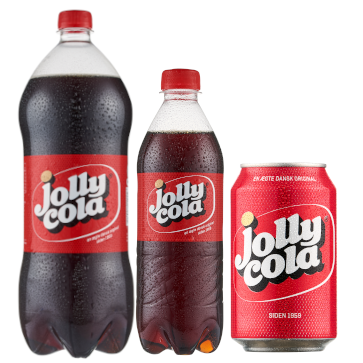 All Denmark's Jolly Cola. With its sweet and well-balanced flavour, this [...]